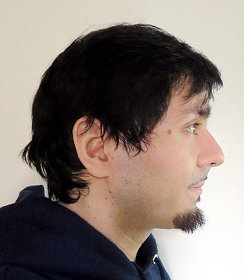 My name is Mauricio Monsalve. I am currently doctoring in Computer Science at the University of Iowa, currently working on my dissertation. I am currently part of the Computational Epidemiology (compepi) group. (Computational epidemiology is described in this paper.) My advisor is Sriram Pemmaraju, whose specialties lie in approximated and distributed algorithms and in theoretical computer science. He is also part of the compepi group.

Background: I hold two MSc degrees in computer science, one awarded by The University of Iowa and the other awarded by La Universidad de Chile. I am a foreign student from Chile. My advisor in Chile was Claudio Gutierrez, whose specialties lie in discrete mathematics, databases, logic, the semantic Web, and the history of science.

Human-subjects certification: I have approved Citi Program's training in biomedical (IRB-01) and socio-behavioral (IRB-02) human subjects research.

Contact information My university email is mauricio [hyphen] monsalve [at] uiowa [dot] edu. My address at the university is 318 Maclean Hall, where 318 is the room in the building. My mailing address is: Mauricio Monsalve 14J Maclean Hall Iowa City, IA 52242 Latest publications
Mauricio Monsalve, Sriram Pemmaraju, Philip M. Polgreen. Interactions in an Intensive Care Unit: Experiences Pre-Processing Sensor Network Data. Wireless Health 2013, Baltimore, Maryland, Nov 2013.
Mauricio Monsalve, Ted Herman, Sriram Pemmaraju, Philip M. Polgreen, Geb Thomas. Inferring realistic intra-hospital contact networks using link prediction and computer logins. SocialCom 2012, Amsterdam, The Netherlands, Aug 2012.
Mauricio Monsalve. The explanatory power of relations and an application to an economic network. CompleNet 2012, Melbourne, Florida, Feb 2012.
---